Remembering Arthur Lee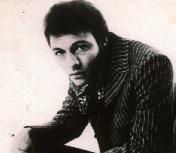 Rock music has lost another pioneer with the passing of Love frontman Arthur Lee of acute lymphoblastic lukemia. He was 61. You can read more of the details
over at Pitchfork.
Plans were to do a Tom Waits album this Sunday for the
Wholesale
album on J's
Extra Mayhem
, but in light of Lee's passing, we'll instead be taking a look back at Love's influential
Forever Changes
album. I hope you won't mind the last minute change. This is a little too important to ignore. We'll bump Tom Waits back to the following week's show.
God speed, Arthur. We all really appreciate the time you spent with us and everything you left behind.
Labels: in memorium